KONE is a world-leading company within the elevator and escalator industry with more than 60,000 employees across more than 60 different countries. Kone is a strong international brand but wanted to become more visible as a workplace in Scandinavia with the main focus being on Denmark.
The goal was to strengthen the employer brand awareness on the Danish market in order to attract technicians and technical sales staff and position KONE as a company with great career opportunities that qualified candidates would, proactively, choose as their workplace.
To start with, KONE needed to have their existing Swedish career site translated into Danish. Here, employee perks and career opportunities were to be presented.
Relevant and engaging visuals were created using a Danish core narrative. The visuals included still images of employees at the Danish offices in Herlev and Aarhus and in the field, a general employer branding video about KONE and their work culture, globally as well as locally in Denmark, and recruitment videos specifically made to attract two chosen groups of professionals. In addition to this, snippets for social media were included in order to increase employer brand awareness.
It was important to KONE to put an emphasis on the great diversity, both in terms of employees, roles, and not least commercial solutions. With the commercial tagline "Dedicated to people flow", the message focused on the work mindset at KONE and the valuable difference you are making wearing the KONE logo.
In order to support the employer branding narrative, a mini-article series on KONE as a workplace was created with the employees being the focal point.
Here, a service technician and Denmark's regional manager, among others, spoke about their careers at KONE and what opportunities it had led them to.
Finally, a channel strategy and a media plan were developed to increase awareness via e.g., social media.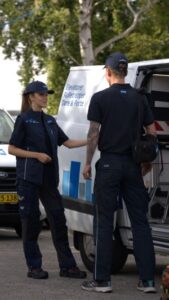 The employer branding video is just one of a number of different content elements to improve KONE's reputation as an attractive and relevant workplace. Among other things, the creation of a testimonial video and a recruitment video is planned as well as the development of a dedicated career site to increase the candidate conversion rate when interested candidates visit KONE's website.
We expect to see the first results from the distribution in terms of increased awareness and higher interest in Q1 2023.
Would you like our help with a new strategy?
We can also help you reach your

employer branding

goals with a tailored strategy for your needs. Whether you need a fresh pair of eyes on specific recruitment or if you would like more general constructive feedback, you are welcome to contact us.